Your escort website. Instant.
100% Free!
No technical skills required.
Escort agency features too.
Escortbook provides everything you need to start, run, grow and market your own successful escort website.
Get yours in few minutes!
Total Bookings today:
120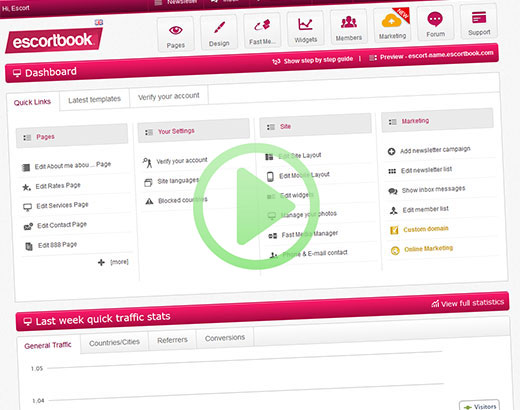 See Video
Check Escortbook
features
Setup a professional website within minutes
100+ Free Themes
We offer lots of quality website templates made by top notch graphic designers, easy to modify. Add your texts and pictures as you like.
Powerfull marketing tools
Complete list of escort directories, toplists and forums to promote your escort site, newsletters (e-mail marketing), traffic analysis and many more.
Customer support
Easy to use tickets system and forum; post your experience using the EB, your ideas, improvements & share your thoughts with other members.
Security and Privacy
Our site and content management system run on a server encrypted with 256bit from prying eyes.
Everything you need to start, run, grow and market your own escort website.
handcrafted template designs
powerful admin system
style your site the way you like
easy escort site script
mobile templates included
13 languages available
enhanced traffic statistics
optimized for search engines
independent escort & agency accounts
professional support service
you can register your own internet domain
256bit encrypted servers
Free Signup »
Powerful

Control Panel.

User Friendly
Customize everything. Anytime. From anywhere.
100+ Themes Themes with premium designs handcrafted by our top notch designers.
Forum & Members Edit your memebers, moderate your forum.
Express your style Style the elements of your site the way you want.
SEO Marketing tools to get traffic to your site.
Advanced statistics. Keep track of your visitors in real time.
Your content. Your control You can add text, rates, contact information and so on!
In your language. Say hello in 13 languages.
Free Signup »
Get
Mobile

.
Your site looks great on every device.
All major smartphone supported. EscortBook offers also a mobile version, optimized for all kind of smartphone and phone operating systems.
Multi-language.
Escortbook speaks your language.
Multilingual support. With multlingual support, EscortBook offer your site to your customers in a language they understand.
SIGN-UP HERE TO JOIN WORLD's #1 ESCORT SITE PLATFORM!