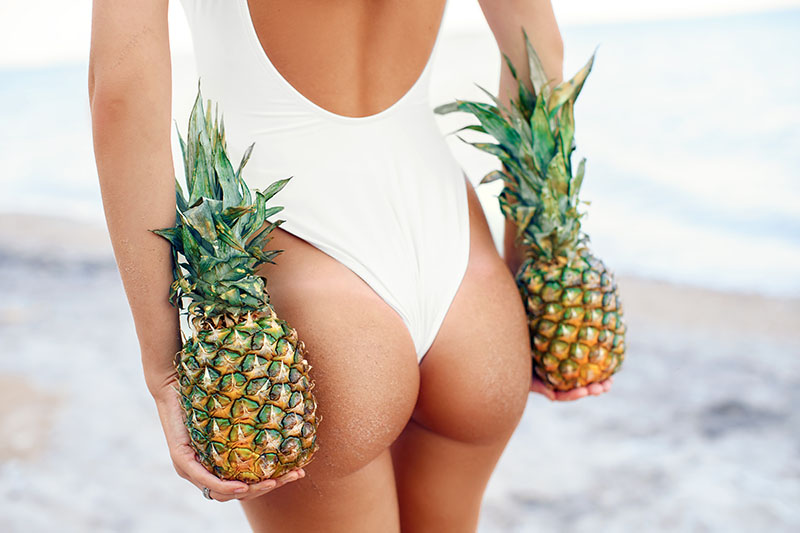 Since the dawn of time, food has been a constant in our lives. It gives us energy, it makes us healthy, and, last but not least, it can get us in the mood for some very passionate lovemaking.
Last month we told you what foods to avoid if you wanted the best sex ever with your client(s). We talked about sweets, hot pepper, coffee, garlic, and onions among many others. Time to see how you can increase your libido quickly with the help of some aphrodisiac foods. They'll work great for both you and your partner(s).
Here are our top recommended foods to make you hot and heavy on your next date!
Vitamins to the rescue
Nothing keeps you healthy and happy like some good ol' vitamins. Except not those that come in the form of pills. It's very important that you increase certain vitamin levels naturally via the foods that contain them.
Which brings us to the magic word: nutrients. They need to be in your system all day, every day. Without them, you won't reach a peak state in anything, not even your sex life. Here are the most crucial nutrients your body should have ASAP: vitamin E (seeds or nuts), iodine, iron (red meat), vitamin D (eggs, mushrooms), vitamin C (e.g.: berries, strawberries), vitamin B12 (fortified cereals), magnesium (bananas, avocados), and zinc (whole grains).
If you keep a balanced diet that contains all of the above, you'll feel full of energy, less stressed out or tired, your endurance levels will be high, and your blood circulation will be at its best. Also, don't forget that proteins are super important, too. A low-carb, high protein meal will raise your dopamine levels. Combined with endorphins, this mix will make your dates extra pleasurable.
Dark chocolate and oysters
We think we've said enough, don't you? You probably know by now that these two are amazing consumed on their own. Then again, you can always combine them if you like a more eccentric approach to what you eat. We don't judge as long as you start to feel tingles in your lady parts when you're with a guy or a lady 😉
Dark chocolate triggers those chemicals in your brain that are required for sexy times. Also, it produces high levels of serotonin, which will make you feel incredible pleasure. Its flavonols and arginine combine to create the same effects as a Viagra pill.
Plus, oysters and chocolate have all sorts of health benefits for every inch of our bodies. Two birds with one stone!
Citrus fruits
If you want to improve your performance in bed, how about some lemon, oranges, or grapefruits? Like we mentioned earlier, vitamin C is essential for your body. It boosts a guy's sperm health and gives you the libido of your life. You'll feel more focused on what you're doing between the sheets and it takes away day-to-day stress.
Honey
Admit it, you've fantasized about covering your date in honey and licking it off him or her. We feel you, dear escorts. But did you know there's a reason behind honey being an aphrodisiac? That reason is called "boron" and it regulates your body's hormone levels. Not only that, but this super food has antibacterial properties and it gives you an energy boost whenever you need it.
Olive oil
If you don't like the idea of pouring some olive oil on your body, try eating a couple of olives before your booking. It will make you want to jump your client's bones and make out with them on the spot. The guys will have some pretty big boners, too.
This was our list of the best foods to boost the libido. If you have other examples, you can add them in the comment section below 😊