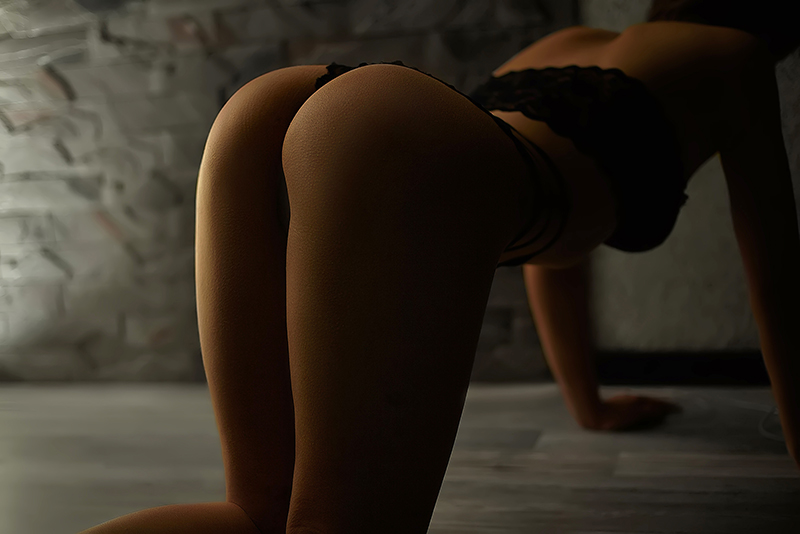 We hope you had a memorable New Year's party where you ate and danced your way through the last night of 2018 accompanied by amazing people. Or maybe you had a date that ended in a bed-shattering orgasm as the clock struck midnight 😉 Either way, it was probably the best time of your life.
Now that 2019 is here, you're maybe thinking of burning some of those calories you gained from eating too much this past week. Which is quite right if you want to look your best for your next bookings. As always, we've got you covered on this subject, too.
Not to worry, we won't talk about hitting the gym and sweating your butt off. Our tips on how to shed that extra weight you recently gained revolve around sex. Let's see what positions are best to say bye-bye to as many calories as possible.
1. The bridge and the arch
We'll start with the latter. Rest both your upper back and your shoulders on a bed. Remember to face your date. He or she will have to sit on both their knees. Everyone ready? Your partner can start thrusting away until both of you shiver with ecstasy. His spot and your G-spot will be stimulated like crazy and you'll burn as many as 200 calories while you're at it.
Next up, the bridge position. For this one, your partner has to place their arms beneath them, then hold themselves up in a position that resembles a bridge. While they do that, get yourself to a sitting position with both of your arms and your legs stretched out under you until both of you create a 90 degrees angle. Half an hour of this helps burn the same amount of calories as the arch position.
2. Cowgirl
A favorite of many, the cowgirl position will help you shed some 120 calories if you do it for 30 minutes. Climb on top of your date and go at it! The giver won't burn anything, but boy will they have the best view ever.
Want to add something special in the mix and burn around 170 calories at the same time? We recommend trying some squats. How? Easy: move both your legs until you squat over her or his body. Don't kneel, squat. There's a difference.
3. Missionary
This position is more of a warm-up before the real deal, and yet it can still make it super easy to burn approximately 140 calories. It's the fastest way to lose them, that's for sure.
If it's not one of your favorite sex positions, lift your legs over your date's shoulders. Penetration will be deeper than ever before, which means intense pleasure for everyone involved.
4. Wheelbarrow
If you're tired of doggy style, give this position a try. For it to work, you need to put your legs on either side of your partner. They will support and hold them up, so that you won't fall. A-spot and G-spot stimulation are gonna be off the charts, we promise. Plus, you get to burn 190 calories, which… wow!
5. Doggy style
Who doesn't love doggy style? Yeah, some of you might hate it with a passion, but you can always try the wheelbarrow one, as suggested above. If, however, you love doing it like they do on the Discovery channel, this position is the best to burn 95 calories in one go.
Have fun sexercising, dear escorts 😊 And have a great 2019!