o you love to pleasure men, women, couples and everything in between? If the answer is yes, then you've probably been thinking of becoming a professional escort for a long time now. We're here to help you with everything you need to know, so don't you worry your pretty heads about a thing. Today's helping tip has to do with books.
If you like to read in your free time and you want to learn a thing or two from professional pleasure givers, we just compiled a list of the best escorting material for you. Let's begin!
1. Ho Tactics: How To MindF**k A Man Into Spending, Spoiling, and Sponsoring – G.L. Lambert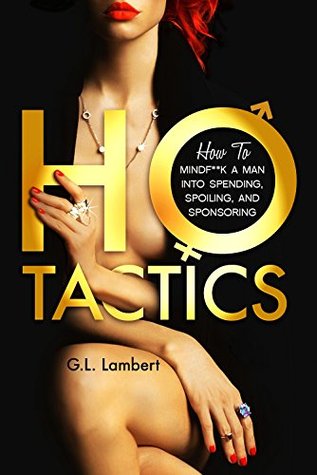 The first book on our list is a must-read for you ladies. The author wants you to remember something very important if you want to make it big: never settle for cheap dates. Always let yourselves be spoiled by the guy you're spending time with, refuse to be exploited and learn to become immune to all sorts of manipulating techniques. The author strongly encourages you to know what you want and to grab the bull by its horns every step of the way.
Once you're in control, you're going to gain money, power, and status. Men and women will treat you like a goddess and you'll feel amazing, trust us. Learn how you can seduce and play by your rules to turn your clients into your very own ATMs!
2. The Courtesan Handbook: A comprehensive guide to escorting in the digital age - Arden Moon
Learning tips and tricks from a real-life companion is always amazing. Arden Moon is a mentor from head to toe and she explains everything in great detail using a very classy attitude. You'll read all about her sexy techniques in her interactions with clients, how she manages to have the guys wrapped around her little finger, how she stays in shape and many other tools of the trade.
We recommend this amazing read to either new girls who want to become escorts or ladies who are already in the business, but want to get to another level, especially in the online world. The author uses her experience to guide you through everything you need to know to become the best in the industry, as well as how to increase the quality of your clientele. You'll learn all about the types of escort businesses, how to attract top-notch clients, how to stay healthy and safe, as well as how to create a very powerful
presence in the digital world.
3. The Tax Domme's Guide for Sex Workers and All Other Business People – Mistress Lori A. St. Kitts
If you're a professional provider of pleasure and you've been working in the industry as an independent for a long time, maybe you dream of opening your own escorting business one day. This book is a great way to understand the world of taxes. Don't worry: it's a very easy read and a must have for every kind of sex worker out there.
Mistress Lori discusses health and retirement benefits for the self-employed, how you can prepare and file your tax return in a legal way, what businesses expanses you must think of, what an audit means and so many more important topics. pictureource: Amazon
4. How To Become A Male Escort: 10 Years Of Insider Secrets Revealed – Simon Davies
We couldn't forget male escorts, could we now? This comprehensive guide on how to pamper the ladies is written by a former male escort who wants to share his secrets to every newbie thinking of going into the escorting business. You get to learn how to stay away from escort agency scams, how to find clients in real life and online, what kind of attitude you should have and so on.
The book is a very interesting and easy read. The insider tips you get will have you hooked and you won't be able to put the book down.
5. First Floor Room 16: Hilarious confessions of a male escort in London. A real story – Maximo Kovak
Ready for some entertaining stories from a real call boy? This book is the equivalent of Fifty Shades of Grey, if you liked that one. A very fun read recommended to every kind of sexual preference. Let the main character walk you through his personal life and kinky adventures as an escort in London.
The detailed and hilarious confessions included in this book will make you laugh out loud for hours. Find out what it's like to get funny requests from clients, how to react if you're in a foreign country, how to make your life outside the escorting world work and much more. In our opinion, this book is one of the best ways to learn all the dos and don'ts of the industry.
These are just a few of our book suggestions for both new escorts and professional companions. Take your pick, give it a read and tell us if you liked it. They're all amazing books and each of them helps you understand the ins and outs of the escorting world and how to be the best in the industry.