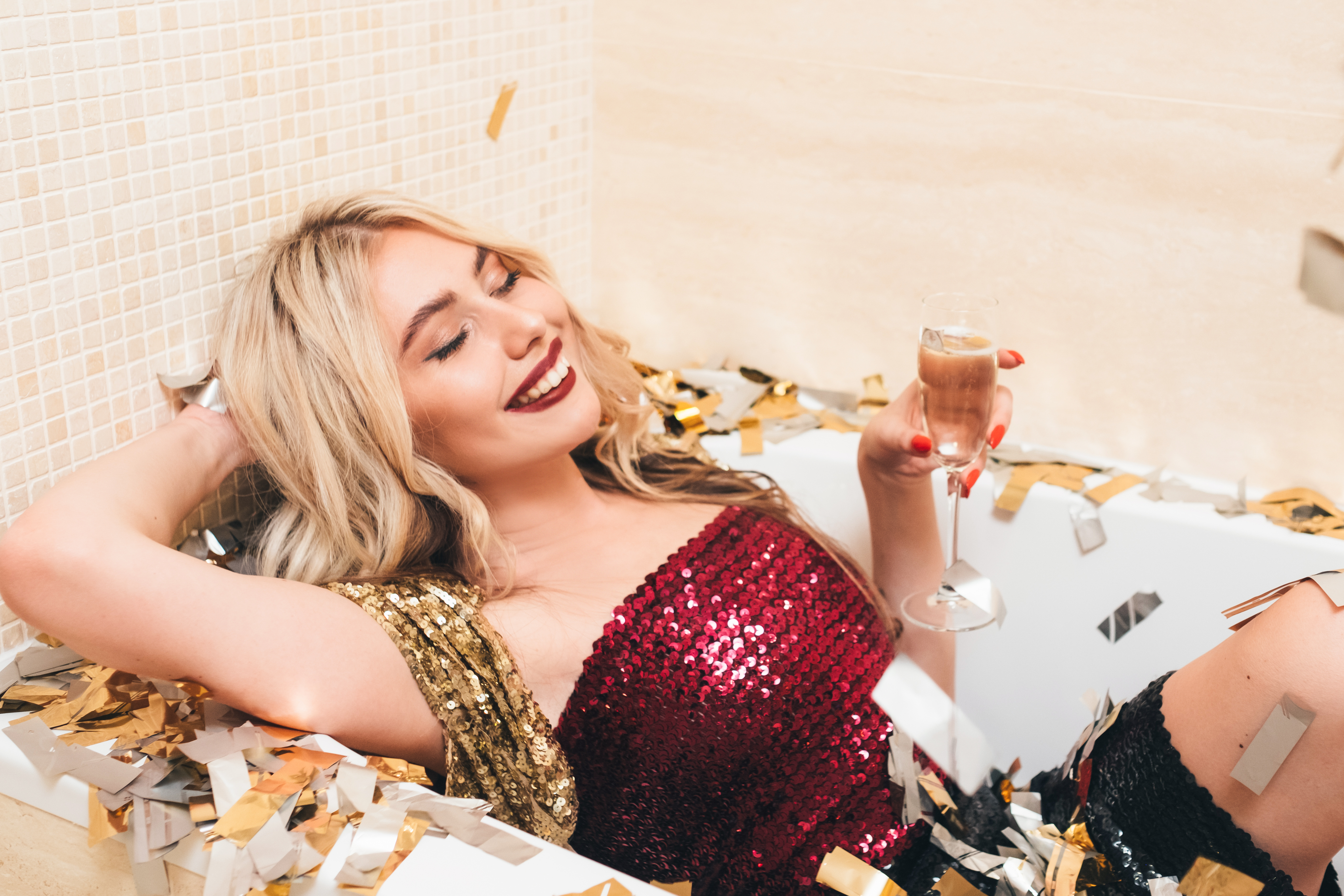 Writing a good "About Me" text comes right after having great photos displayed on your profile. It's just that important! Keep in mind that the pictures you show and the things you say in those 5 lines of text at the "About Me" section of your profile, are the only things that can turn a potential client into a date and even a regular.
So, pay extra attention to what you are saying about yourself, because this is your business card, the first impression that someone makes about you before deciding to book you or not.
There are 3 steps of writing a good, catchy, and informative description:
1. Pinpoint some of the amazing things about your LOOKS
2. Mention a couple of your strong SKILLS as a lover and some of the things you ace in bed
3. Say something about your PERSONALITY, so that he can create a mental image of how great fun the two of you will have together.
Looks, Skills, Personality – those are the 3 pillars you need to "dress" your description around.
Step1 It's all about the looks
Yeah, we know that the photos you post on your profile are meant to say it all about the way you look, but don't underestimate the power of words. Sexy photos must be doubled by descriptive words, so that you can maximize the effect you want to have on the person looking at your profile.
For example, you have some sexy pics showing your big ass and generous cleavage. The eye will be instantly drown towards those two, but you also want to invite the mind into the game, so you do that by describing a picture to your potential date: you're inviting him to imagine that big, sexy ass of yours rubbing against his hard dick, you want him to see the "waves" that your bootie is making when he strokes you from behind, or you want him to motorboat those soft, velvety, boobs of yours. Paint an image and make the two of you the starts of the show, that's the secret to luring the big guys in!
Step2 Use your skills in your advantage
It's not enough to just sit there looking pretty. Tell him about all the things he can do to enjoy your amazing body and you get one step closer to having him book the date.
We've talked about what he can do to you, now it's time to take out the big guns and introduce your skills – the things that you can do to him! Men are kinda used to the average, stand still and spread your legs type of woman, and if they are interested in the services of an elite escort then this type of service is exactly what they do not want to experience with you.
So, take advantage of this important tool, which is your "About Me" text and show off your amazing skills as a professional lover. For example, if you are into BDSM, tell him about all the naughty things you are willing to do, things involving ropes, chains, handcuffs, whips, strap-on's and so on. If you are the perfect image of the sweet lady in society and wild lover in bed, then tell him about that, and use words such as: "the perfect girlfriend experience", "lady in society, slut in bed", "passionate lover", "open to new erotic adventures", "into role playing", "anal play" and so on.
Pinpoint the things that you are willing to do to satisfy his fantasies, the things you are great at, like role-playing, BDSM play, masturbation, blowjobs, anal play, deep throat, and the things you are open to. Also mention the things you definitely are not up for, so that you can avoid an awkward situation when the two of you meet face to face.
By presenting all those services, you describe just how skilled you are as a lover, because it's not enough just to be pretty if you're not adventurous, a little slutty or innocent, depending on how you want to market yourself, open to new experiences, or you just don't know how to move or how to show imagination in bed.
Step3 Use your personality to seal the deal
The last thing to talk about in the "About Me" description text is your personality. This way you paint a vivid picture of how your time together will be. A lot of your potential dates are looking for more than just a quicky, they are looking for someone to listen to them, to make them feel manly again, to pamper them and make them feel important. They are busy businessmen, looking for someone to help them unwind, have a laugh, forget about stress and problems, so sell them that!
Tell them about your personality, how you are as a person and sell them the dream of the perfect date, with a woman that is a great listener, that is witty, that can offer great conversation, that can pump up their ego and that can ravish them in bed.
If you are joyful, passionate, fun, and playful, tell them just that. They will create a mental image about you and your time together, that will help them decide if they want to book you or not.
If you are dominant, powerful, and strong willing, tell them that. Maybe they are looking for that but don't know how to say it. Some men are looking to be dominated, want to be submissive and are afraid to express that in words. You say it and they'll come.
Words are powerful tools, use them to attract the right dates for you. Show yourself in the best light possible and the men you are interested in dating will soon start to appear.
Hope this info will come in handy for you. Let us know what your strong point are, what are the things that you use to attract your dates? We can't wait to hear your input in this matter.