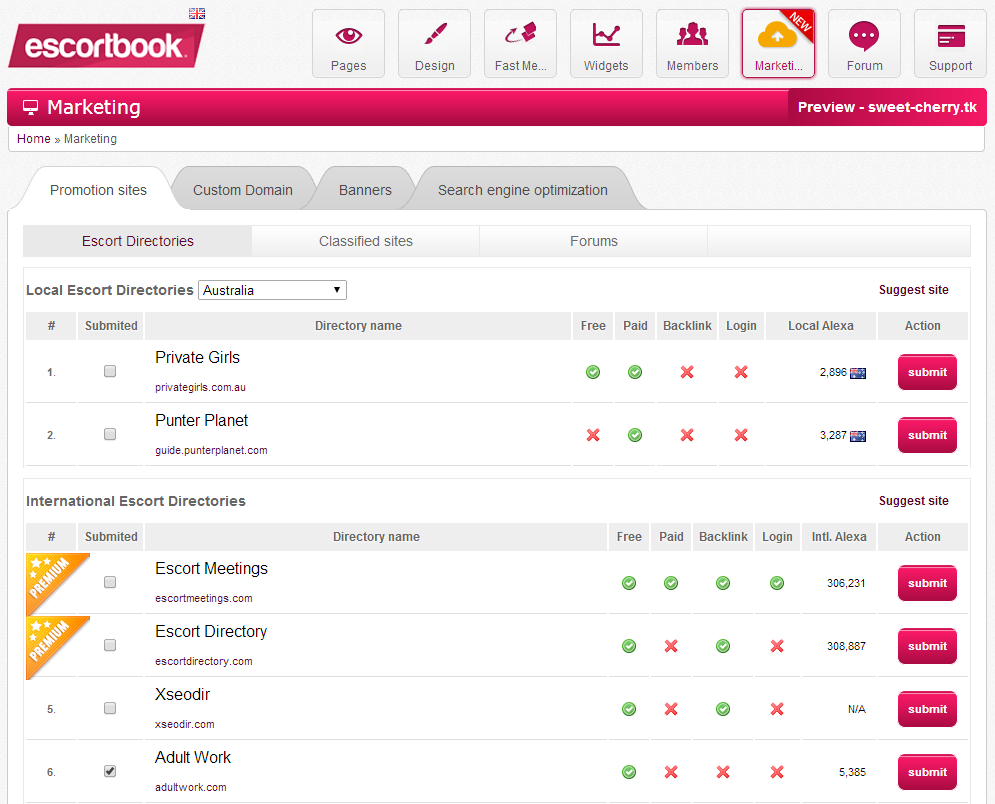 We suggested in our previous post that advertising is one of the key steps in your personal branding process as an escort. One of the easiest ways to get your name and services out there is by listing in as many escort directories as possible. With so many established directories that bring huge traffic in daily, it would be a wasted opportunity not to take advantage of them.
Many such sites offer free listings, with some asking for a link back to the website in exchange. Signing up for paid directories is up to you and your budget. It's worth experimenting, however, even if for a couple of months. After all, only by trying will you see how it affects your business.
Nevertheless, finding the right directories can be a daunting task in itself. This is why Escortbook offers you an easy and fantastic tool that can help you choose what directories to list in, as well as traffic data for each. In order to view them, simply log in to your escort account, and click the "Marketing" button in the top menu. The first tab to open will be one listing local escort directories and directly below them, international escort directories. We always place our personal favourites at the top, so be sure to check those out. Two of our favourites include escortmeetings.com and escortdirectory.com. They're reliable and updated on a constant basis.
To the right of each directory in our Marketing Tool, you can see which sites are free and/or paid, which sites ask for backlinks, login information, and, most importantly, their Alexa Rankings. Alexa is a ranking system that makes traffic data public for various websites. It is based on unique page views, as well as reach, averaged over a predetermined period of time – three months. As opposed to Google's Page Ranksystem, the lower the score in Alexa Ranking, the better.
We believe this quick and easy-to-use tool will offer you the necessary insight into choosing which directories to sign up for. List in as many free ones as possible, and study the paid ones' rankings. Again, signing up for a paid directory depends on your current needs and budget, but it is always a useful option to have in mind.